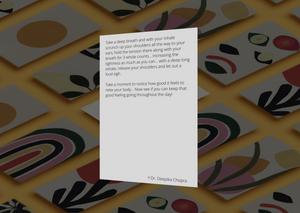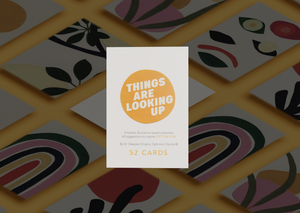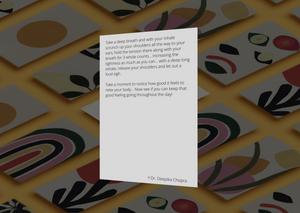 THINGS ARE LOOKING UP® Digital 33 Day Challenge
The Things Are Looking Up® Digital 33 Day Challenge is a brand new tool to help you cultivate positivity and optimism in your life, no matter where you are or what you're doing!
It's a myth that it takes 21 days to formulate a new habit, research shows, on average it takes about 66 days and the first 33 days are the most challenging— take the #THINGSARELOOKINGUP33 challenge and pull one every day for 33 days, around the same time each day!
Each card has a mindfully constructed prompt or suggestion that inspires joy, stress reduction and increased resiliency developed by Dr. Deepika Chopra, Optimism Doctor®️, Visual Imagery Expert & Happiness Researcher.
The front of each card is crafted by blending together abstract art forms & elements of nature, done this way to increase positive mood, creative flow & to shift thoughts upward.
The THINGS ARE LOOKING UP® brand cards are meant to be your friend, pull one out when you feel like you need a boost, or if you need someone to talk to.
*Includes unlimited access to the THINGS ARE LOOKING UP®  33 Day Challenge page which includes a curated selection of 33 optimism based cards from the original  THINGS ARE LOOKING UP® Optimism Deck. Please not that this is NOT A PHYSICAL PRODUCT AND WILL REQUIRE A LOGIN TO ACCESS*
*To nominate a healthcare worker to receive free access to the Challenge for the month of May, please leave their name, work email, and professional title in the notes section at checkout.
Created by Dr. Deepika Chopra in Los Angeles
Site Design by Bouy Studio
Art work commissioned by Phoebe Tillem.
Visit drdeepikachopra.com for more content on all things Optimism!