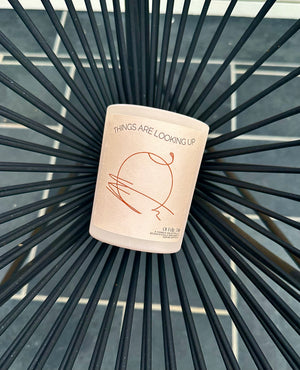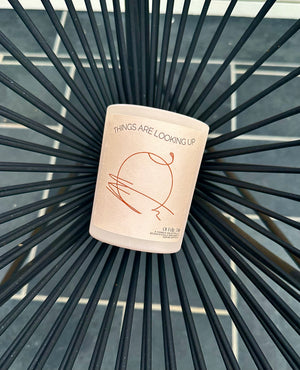 Things Are Looking Up Feliz Dia Candle
Take your daily routine deeper and light it up with the power of optimism. The THINGS ARE LOOKING UP™️  Candle in scent Feliz / Dia our newest offering
Like all of the products here the THINGS ARE LOOKING UP™️ Feliz / Dia Candle blends together science based research and holistic sensibility to inspire and increase optimism by uplifting mood. 
Dr. Chopra, the OPTIMISM DOCTOR®️ designed Feliz / Dia to uplift spirits, reduce stress, and infuse your surroundings with optimism with every carefully selected aspect, from ingredient to color and even the name. 


Did you know research shows that Spanish is the happiest language and Feliz / Dia translates to Happy Day. 
With warming notes of Santal and the Woods paired with the brightness of a special blend of tropical Citrus, this exquisite blend creates just the right balance of comfort, energy, self reflection, a sense of grounding, hope and curiosity. This candle allows you to process and work through stress while embracing optimism.
Whether you're seeking relaxation after a long day or a boost of optimism to start your morning, adding the Feliz / Dia Candle is a sure way to elevate your most precious daily rituals.
9 oz fill | 45-55 hour burn time
Natural coconut wax 
made in Los Angeles